The University of Divinity welcomes and provides overseas students with a safe, enjoyable and rewarding place to study. The University complies with Australia's law to promote quality education and consumer protection of overseas students. Pastoral and academic support is offered to all students.
Support for Overseas Students
The University offers a range of services to support and help students to succeed in their studies. These include:
A compulsory orientation program for all new overseas students
Library orientation
English language skills assistance
Academic skills assistance
Course advice and course planning
Pastoral care
Reference to other services and emergency contacts
These services are delivered by each College for their overseas students.
If you are a current overseas student and require urgent assistance, please call the University's 24-hour hotline on 1800 775 691.
Overseas Student Support
This resource containts weblinks and contact details to a range of external providers offering services in Australia relevant to an overseas student. Services include: emergency; counselling and mental health; housing and tenancy; financial; legal; transportation.
Apply for Admission
Overseas students may commence studies in Semester 1 or Semester 2 each year. The closing dates for applications are 15 April and 15 November.
Not sure if you should apply as an overseas student or a domestic student? Check out our Types of Students guide for more information and definitions.
Pathway to Victoria Scholarship
The Victorian Government is offering scholarships of up to AU$2500 to eligible overseas students who complete an approved English Language Studies Centre for Pastoral Ministry (ELSPM) program or Foundation Studies Program, before commencing their award degree at the University of Divinity in 2023 or 2024.
The Pathway to Victoria Scholarship Program has been made possible by funding from the Victorian Government through Study Melbourne.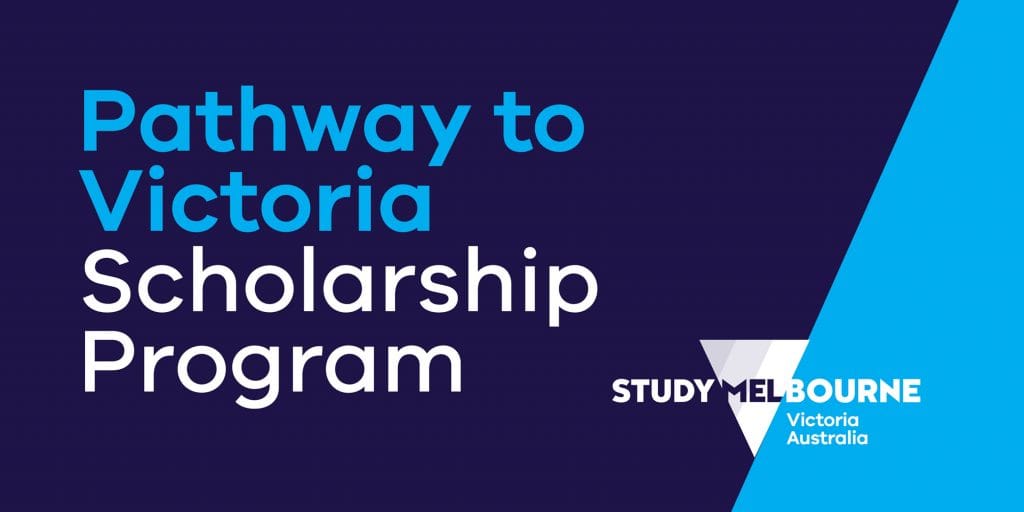 Overseas Student Sponsor
Many of our overseas students are sponsored financially by a third party, such as a church or religious institution in their home country. If your church or religious institution would like to find out about becoming a sponsor of an overseas student, get in touch with us for more information.
Fees and Charges
Tuition fees and how to pay are available on the Fees page.
Fees for overseas students are the same as those for domestic students. Overseas applicants are charged an application fee of AUD$300.
Enrolment and Student Details
Once successfully admitted into a course of study at the University of Divinity, overseas students must be enrolled in a full-time study load (contact your College Registrar or Course Advisor for more information on the requirements for your course).
The University of Divinity will not deliver more than one-third of the units in a course for international students on an Australian Student Visa (subclass 500) by online or distance learning (Standard 8.19 of the National Code) and must ensure that overseas students study at least one unit that is not by distance or online learning in each study period (Standard 8.20 of the National Code), with the exception of the last unit of their course.
All overseas students are required to enrol into the required number and classification of units for each study period of your enrolled course of study.
If you are unable to commence the course in the semester you applied for, you may be able to defer commencement. For more information, read our Deferring, Suspending or Cancelling Enrolment Guide for Overseas Students.
Living and studying in Australia
Accommodation
The Australian Government warmly welcomes international students to study and live in Australia and to have a positive experience while accessing a world class education.
We know finding suitable accommodation can be a challenge for international students at this time of year. Austrade publishes a range of tools and resources on the Study Australia website on accommodation options within Australia including:
Costs of accommodation will vary depending on your chosen state, city, and type of accommodation. The cost of living calculator on the Study Australia website helps students calculate their expenses.
Getting a job and your work rights
Education providers have responsibilities to international students to support their health, wellbeing and adjustment to living in Australia including providing information about their work rights and how to seek support for workplace issues.
International students, have the same workplace rights as all other workers in Australia.
You must be paid at least the minimum wage.
You must pay tax on your income.
You must receive a payslip.
Casual work means you don't have a fixed number of hours every week.
The Australian Government Department of Education has a range of videos (created by Fairwork Ombudsman) and resources for international students about workplace rights which have been translated into different languages.
International students have the same workplace rights and protections as anyone else working in Australia, but sometimes your work might not feel right. Feel free to contact the Fair Work Ombudsman for help if you are having workplace issues, without fear of your visa being cancelled. This could be for issues such as not getting the right pay or other entitlements, like leave or notice.
For 500 visa holders
The allowable work hours cap for student visa holders has been increased to 48 hours per fortnight. This ensures that student visa holders are able to focus on obtaining a quality Australian education and qualification, while remaining able to support themselves financially, gain valuable work experience, and contribute to Australia's workforce needs.

Further information about this can be found on the Australian Government Department of Home Affairs website.
You must continue to balance your study and work commitments even though there is flexibility in the number of hours you can work. Students must still:
maintain their course enrolment
ensure satisfactory course attendance, and
ensure satisfactory course progress.
More information about working in Australia
International students can contact the Fair Work Ombudsman or phone 13 13 94 for help if they're having workplace issues, without fear of their visa being cancelled.
Austrade's Employability Hub provides international students with resources to enhance their employability and job readiness and information on their work rights.
Post-Study Work Rights Extension
The Government has announced an increase to post-study working rights for eligible international higher education graduates to address Australia's critical skills shortages.
Changes only apply to the Temporary Graduate Visa (subclass 485) Post-Study Work Stream.
The following visa durations are now available for eligible international student graduates with select qualifications:
two years to four years for select Bachelor degrees
three years to five years for select Masters degrees
four years to six years for all PhDs
The additional visa duration applies to eligible graduates with qualifications in key industries such as the teaching, health, engineering, and agricultural sectors.
Further information including the indicative list of eligible qualifications is available at here.
Eligible graduates who study and work in regional areas will still be able to access the Temporary Graduate Visa (subclass 485) Second Post-Study Work Stream.
Useful links: Study in Australia
Education Services for Overseas Students