Doing a Higher Degree by Research (HDR) is a very different experience than completing a coursework program of study. In an HDR you have one assignment to complete, the writing of a thesis. To help you do that, your supervisors, your College, the School of Graduate Research (SGR) and the wider University community provide many different ways that you can connect with others and continue to learn and grow in your academic skills.
The journey
The following is a map of the HDR journey which gives you an idea of the way the University keeps track of your progress.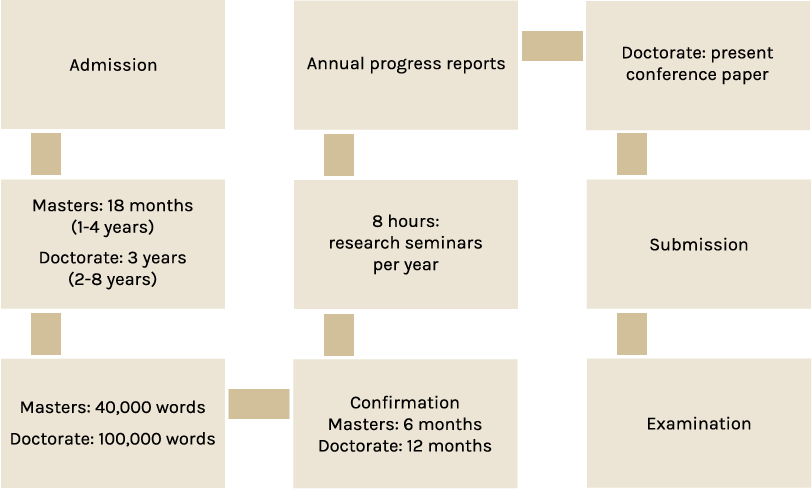 These stages, or milestones, are only part of the story though. There are many more opportunities on offer.
Supervision
Each HDR candidate works with at least two supervisors, a primary supervisor and an associate supervisor. The role of the supervisor is to support, guide, and encourage you in you work, as well as give you feedback on your writing. As you develop as a researcher, the relationship between the HDR candidate and the supervisor undergoes subtle changes as you become the expert in your field of research.
Researcher training
The SGR offers several different training opportunities, and we are continuing to develop this program. The aim of training is to equip you with the skills you need to compete your dissertation, but also to prepare you for life after completion. Areas covered include general orientation to the research environment, opportunities to participate in research methodologies units, training for the first major milestone—the confirmation panel, academic writing skills development, workshops on presenting and publishing your research and planning your career.
Thesis bootcamps and 'Shut-up and Write' opportunities
Keeping yourself motivated to write can be a challenge. The SGR organises writing events throughout the year. Thesis bootcamps run over two days and provide the space and motivation for a period of concentrated writing. "Shut up and Write" sessions are only 2-3 hours at a time but run on a more regular basis.
Research Seminars and Research Days
Colleges and the University run regular research seminars and conferences. Engaging with other researchers and scholars, listening to their work, and presenting your own, helps to develop critical thinking and engagement, and broadens our knowledge of a breadth of disciplines and research. It is another way of building community.