Excellence in Research for Australia (ERA) is Australia's national research evaluation framework. All universities must report their research activities to be assessed for each round. If you produce research outputs, your work will be included as part of the University of Divinity's ERA data.
Through ERA, The Australian Research Council (ARC) upholds excellence in research, by comparing Australia's university research effort against international benchmarks.
Engagement and Impact Assessment (EI) is a companion exercise to ERA. EI assesses how well researchers are engaging with end-users of research, and shows how universities are translating their research into economic, social, environmental, cultural and other impacts.
The next round of ERA will take place in 2023, and EI in 2024.
Detailed information about ERA and EI can be found at the ARC website.
Previous ERA results can be viewed by disciplines and universities at the ARC data portal.
To see what other researchers submitted as research outputs in your discipline at the ERA 2018, see here.
To see what other researchers submitted as Impact activities at the ERA 2018, see here.
Frequently Asked Questions About ERA and EI:
Q. Are my research outputs reportable for ERA?
A. Refer to the table below to see your ERA obligations.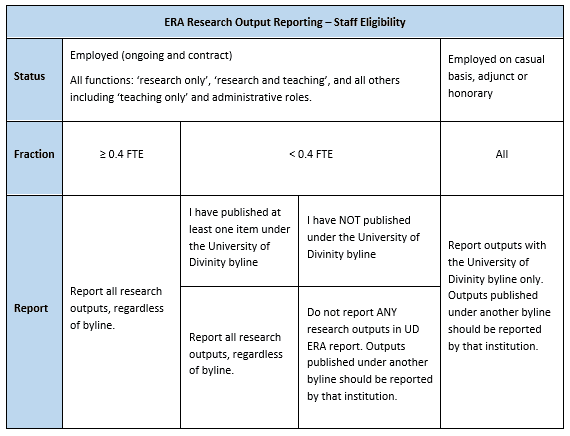 Q. Am I required to produce research outputs?
A. Academic staff are expected to produce research outputs. Non-academic staff are not expected to produce research outputs, though they may sometimes do so. If you are unsure of your classification, enquire with your manager.
Q. What counts as a research output?
A. Please refer to the Powerpoint documents at the bottom of this page, which contain a clear explanation of the outputs and activities which count for ERA and EI.
Q. Should I publish in certain journals or FoR codes?
A. ERA assesses research quality. It is worth attempting to publish in journals and other media that are well regarded in your field. The Scimago Rankings are one way to assess a journal's quality, but many smaller journals that do not appear in such lists may still have an excellent reputation in their discipline.
At a minimum, journals must be included in the ARC Journal List for that ERA round, which requires that they are 'academic/scholarly, publish original peer reviewed research, and have one or more ISSNs'. The 2018 Journal List is here. A new list will be published for ERA 2023.
Journals often assign FoR codes to articles. If you can make a reasonable case that your output should be reported for ERA under a different code, the University is allowed to do so.
Q. What is a FoR code?
FoR stands for Field of Research. It is a set of 2-digit codes, broken into 4 and 6-digit subgroups, from the Australian and New Zealand Standard Research Classification. FoR codes are used to classify research into disciplinary specialities for ERA. FoR codes are also often used in grant applications.
The FoR codes have been updated in 2020. If you are looking at information about the 2018 ERA, please be aware that some codes from 2018 no longer exist. More information about the update can be found here.
The University of Divinity's Guide to FoR Codes can be found below.
Resources